Woodstock Rocks: From the Early Stone Age to modern times
You are welcome to join us for an Archaeological Society Talk at the Phansi Museum in Durban at 10.30 am on Saturday 28th October 2023. The address is 500 Esther Roberts Road, Glenwood, Durban.
SOUTH AFRICAN ARCHAEOLOGICAL SOCIETY
KWAZULU-NATAL BRANCH
www.facebook.com/ArchaeologicalSocietyKZN
https://www.archaeology.org.za/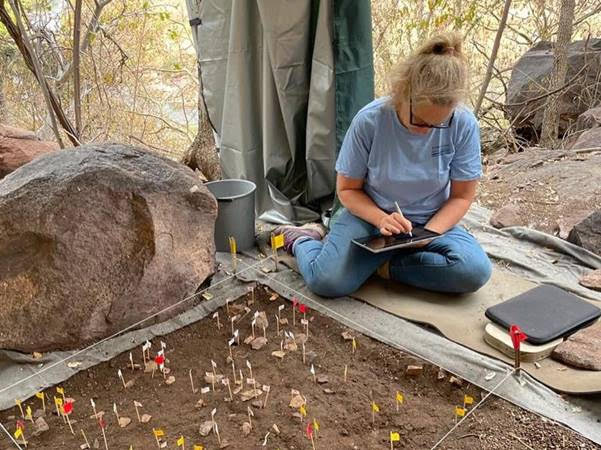 Deep in the Waterberg is a narrow shelter with faded rock art and a mix of Iron Age pottery and stone tools strewn across surface. But what makes Woodstock really rock(s) is the unexpected finds that were uncovered during our recent excavations. The excitement of archaeology lies in the never-ending sense of discovery; the thrill of the unexpected. We started our excavations with the expectation of finding Later and Middle Stone Age remains, but instead we found ourselves unearthing Early Stone Age Acheulean artefacts, the first such finds on the Waterberg plateau. In this talk I will introduce you to a site visited by Homo sapiens and earlier hominin species for more than 780 000 years.
Please contact Gavin Whitelaw gwhitelaw@nmsa.org.za or Ghilraen Laue (glaue@nmsa.org.za) if you would like to attend.