Battle of Diamond Hill Outing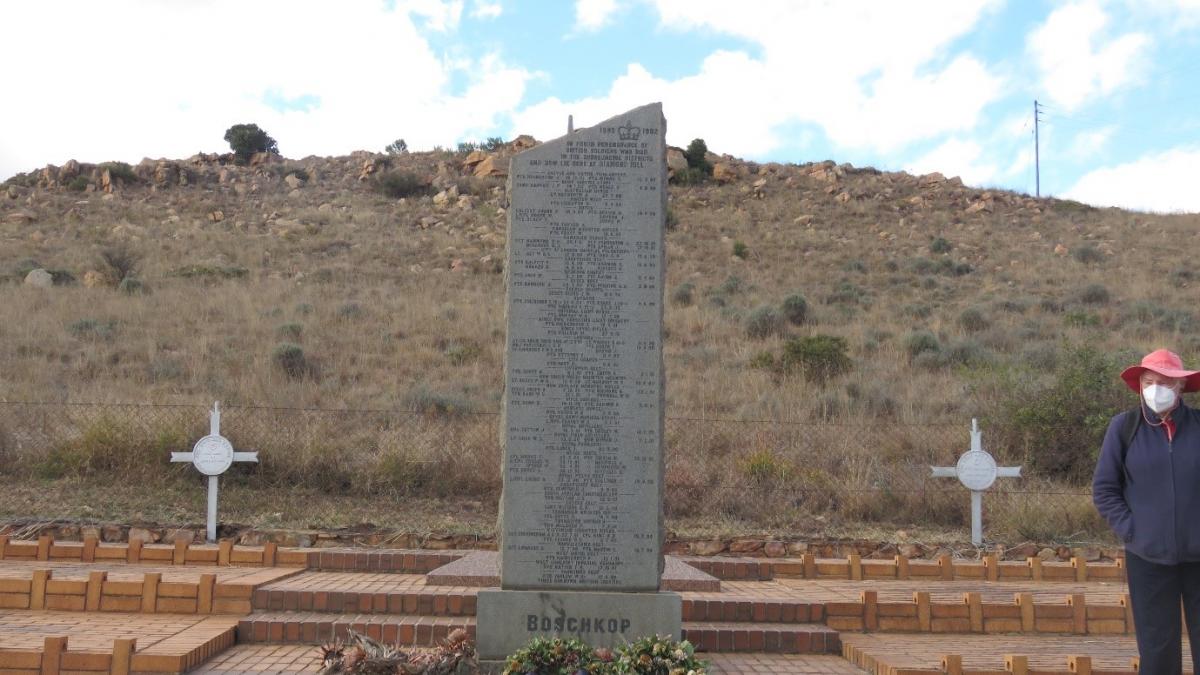 British military cemetery at Kleinfontein
It was a typical Highveld winter morning when we departed for Diamond Hill near Bronkhorstspruit, brisk but gradually warming up.
At Renosterkop, a popular venue for offroad bikers we were met by our knowledgeable guide Rob Milne, who specialises in the South African War battlefields around the Magaliesberg and adjacent areas.
The Battle of Donkerhoek, or Diamond Hill as the British named it, was the second last conventional battle of this war. Following the fall of Pretoria in June 1900, the Boers under General Botha retreated 26 kilometres towards the east to defend the Delagoa Bay railway line, but still near enough to launch a counterattack on Pretoria, circumstances permitting.
 With his centre anchored on the railway line at Pienaars Poort, Botha extended his 5 000 men across a wide front, from Koedoespoort in the north- west to Mosberg in the south-east, a distance of 45 kilometres. Broadly following the Donkerhoek – Diamond Hill range, with its steep hills, broken ground, and lateral ridges, ideal terrain for a defensive battle.
It appeared the British Army under Lord Roberts of 14 000 men would easily overwhelm Botha's smaller force, but the British troops were still exhausted from their long march across the country to Pretoria and many still weak from typhoid.
On the left flank French commanded 1400 mounted men, in the centre Pole-Carew had 6 000 infantry and 400 mounted men and on the right flank Ian Hamilton had 2 200 infantry and 3 000 mounted men.
Botha by now had come to anticipate Robert's usual attack method, which was to hold back his centre until his opponent's flanks had been turned. The Boers therefore threw all their men into the firing line and though thinly spread with only one man every 5 meters, they relied on their ability to relieve a hard-pressed detachment by bringing up men from less exposed sections.
On 11 June 1900, Broadwood under command of Ian Hamilton, attacked on the right front across the gap between Diamond Hill and Morskop. Lord Airlie commanding the 12th Lancers charged in close order and routed a small party of outlying Boers, but then came under heavy rifle fire from Boers ensconced behind some rocks 600 meters distant. Realising the Lancers could not attack across open ground against sheltered rifle-fire, Airlie had just given the command to wheel about when he was shot and killed. Broadwood was also unable to progress further due to boggy ground holding up his attack.
We passed this boggy area and then walked crossed a small stream the Boers had widened and lengthened as part of their defenses. Just beyond this little stream we reached the site where Lord Airlie was killed. Initially buried here, his remains were later disinterred and reburied at a small military cemetery on the nearby farm Kleinfontein.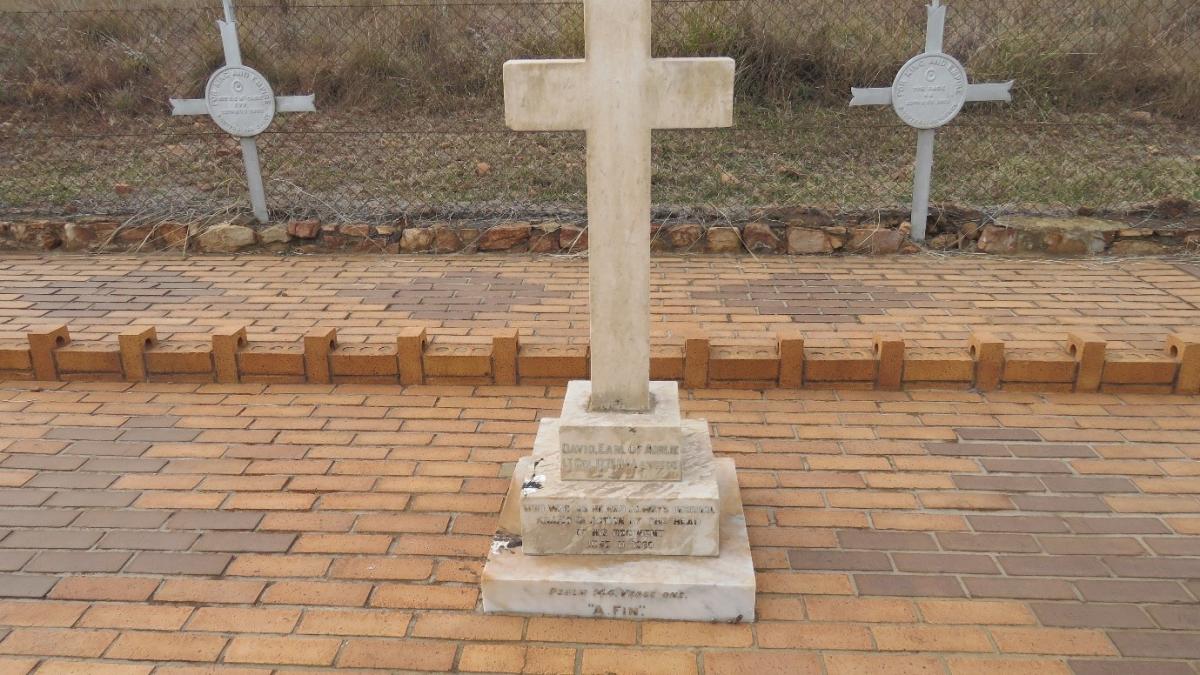 Tombstone of Lord Airlie at Kleinfontein Military Cemetery
That evening Roberts still deliberated how to proceed when news arrived that Hamilton, if supported, could pierce the Boer left flank at Diamond Hill.  
The attack on Diamond Hill began just after midday. The City Imperial Volunteers (CIV) were able to rush the crest of Diamond Hill and the Sussex, Regiment, followed shortly afterwards by the 2nd Coldstream Guards cleared the crest further north.
The Boers retired to an equally strong position on the arc of ridges to the east. For a moment it seemed a stalemate had been reached. Then Botha received news that Hamilton had captured the whole of the Diamond Hill plateau. Realising the British could now place their heavy artillery on the plateau and shell the Boers in all directions, he silently withdrew his men during the night. From Diamond hill the Boers retreated to further east to Belfast where they fought their last conventional battle at Bergendal. Following Bergendal, the two-year long guerilla phase commenced.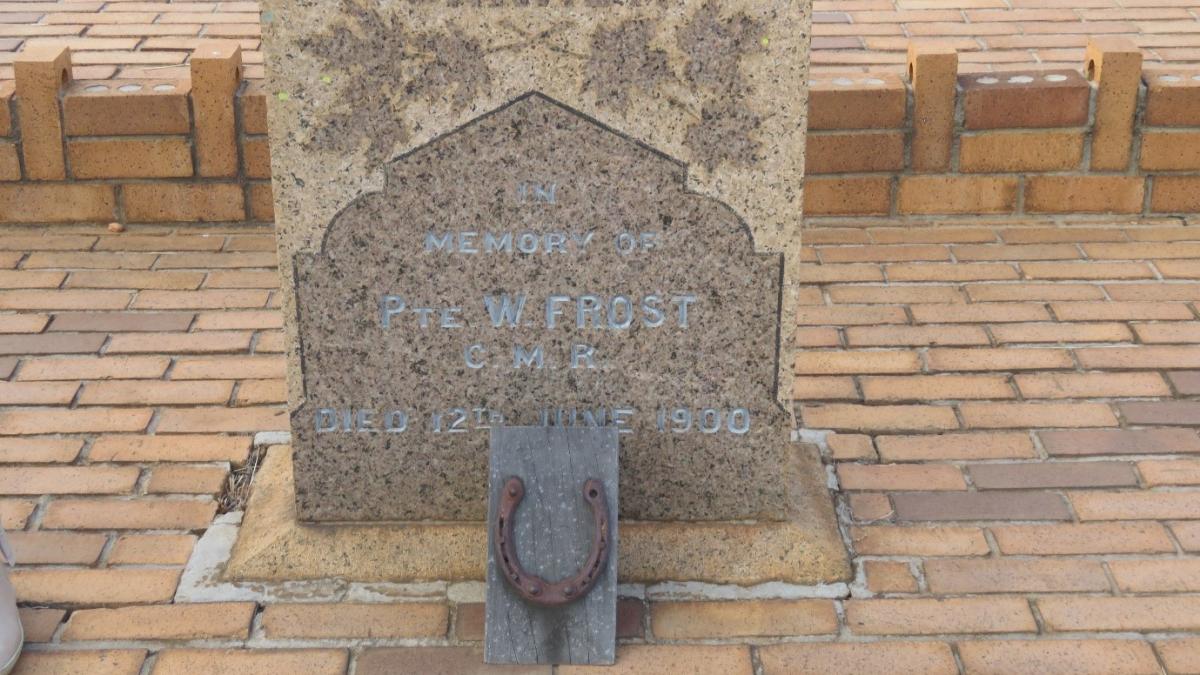 Tombstone of Canadian soldier W. Frost. Note the horseshoe placed there by the visiting descendants.